Free the FBI: Let Them Protect America from Jihad
Stop the Shackling of the FBI's Intelligence on Counterterrorism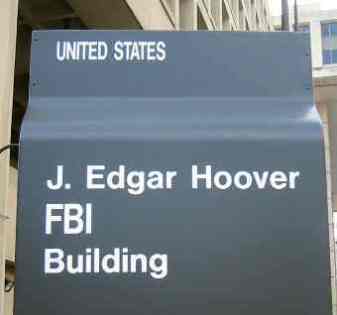 Something was seriously wrong when, in 2011, the FBI interviewed a jihadist like Tamerlan Tsarnaev – the older of the two Chechens believed to have perpetrated the bombing of the Boston Marathon – and saw no threat.
Yet, that is the predictable result of the shackling of the Bureau that has taken place in recent years. For example, that same year in 2011, the Obama administration actually purged FBI training materials of information that warns of the connection between the Tsarnaevs' kind of "religious fervor" and terrifying acts of jihad.
And the Obama administration has also effectively told the Bureau it must get the approval of "experts" with Muslim Brotherhood affiliations before it can do any such training in the future. This is a formula for much more jihad in America.
Please add your signature to this letter to President Obama: It's time to free the FBI so they can do their job and protect our country.
Public Comments
May 10th, 2016
ALAN A. from San Jose, CA writes:
removing the Muslim Brotherhood's members,affiliates ,front groups and organizations(C.A.I.R.) from the Federal Government should be the FBI primary focus.For the last 20+years,the Brotherhood has insidiously been involved with the destruction of our country from within.Embraced first by the Billary Clinton's administration, penetrating into the Bush administration,enabled FULLY by sitting president Barrack Huesane Obama.The Muslim Brotherhoods end game is the imposition of Sharia Law onto the citizens of the United States.They're are highly motivated and very determined to realize their vision of a Sharia compliant America. Islam acronym...IMPOSE SHARIA LAW AND MULTIPLY...... you don't need to look any further than Europe....HELL is rapidly approaching our country.
May 6th, 2016
Cassandra B. from Eau Claire, WI writes:
Please please please!!! We MUST get rid of Jihad! We as Americans have to be be independent of the chaotic culture!! Christianity is about happiness which is goodness, that which is God!! Come on Obama!! We Must end this assault on America!! If you want to be remembered as a Great President, this needs to be a top priority right NOW!! PLEASE!!!
Apr 27th, 2016
sandra c. from Ellensburg, WA writes:
Treasonous is the only word for the administration's embrace of the Muslim Brotherhood's influence on the U.S. agencies responsible for our National and foreign security. Treasonous!!!
Apr 27th, 2016
Wanda A. from Santa Maria, CA signed.
Apr 23rd, 2016
Bethany B. from Cathedral City, CA writes:
The Muslim agenda in the Government has been exposed. Mr. Obama- You are not allowed to make, or allow to be made, orders restricting the FBI from working. The FBI and You can not use the "I Was Just Following Orders" defense. It did not work for the Nazis and will not work for you. Give your life to the Lord, for through him is forgiveness of sin, joy and peace.
Apr 21st, 2016
Rhoda G. from Seaside, OR writes:
WAKE UP AMERICA NOW - DEMAND THAT THE FBI STAND WITH AMERICA & WE THE AMERICAN PEOPLE - TAKE YOUR OATH NOW OR STEP DOWN - STOP PROTECTING EVIL OBAMA IMMEDIATELY!
Apr 19th, 2016
Gary P. from Sulphur, LA signed.
Apr 17th, 2016
Jamie F. from Destrehan, LA writes:
The dedicated professionals of the FBI deserve to be allowed to protect and serve the citizens of this country WITHOUT any political agenda constraining their efforts. Please stop letting your ego and control get in the way of making decision making.
Apr 16th, 2016
Joel K. from Grand Rapids, MI writes:
Follow the Constitution. Enforce the law.
Apr 14th, 2016
Someone from Decatur, IL writes:
To permit pockets of Shariah Law to be THE LAW in places in the United States of America is a crime against our Nation. If a group of people choose to live in this great country they choose to live by the laws of our nation. I understand there are sections in some cities in the U. S. where the police will not go. Those sections already are ruled by Shariah Law. That is wrong and should not be tolerated. Where are our elected leaders that they have allowed this to happen? What kind of a President do we have that would permit this to prevail under his watch. Who will protect us from those who are bent on destroying our freedoms if our President and our elected officials do not consider such a thing a threat to our basic human rights an encroachment on our civil liberties as citizens of the United States. Is anyone in those HALLOWED HALLS IN WASHINGTON D.C. listening or watching or even caring about what is happening in the land of the free and the home of the brave. We are losing a foot hold in sections of our homeland to a Law that limits the freedom of women and children. A law that declares a jihad on members of any other religion other than there own. A law that wants to destroy everything that makes our country great. I am appalled to see how this Islamic political influence is creeping into our culture and even more troubling our courts and government. America wake up!
Apr 14th, 2016
Dean U. from Bakersfield, CA writes:
You've sworn to uphold the Constitution of the United States and protect it's citizens. You've got 5 months to implement your oath of office. Please! Please! Please!
Apr 12th, 2016
Paula H. from Anna, OH signed.
Apr 12th, 2016
Someone from Osseo, MN writes:
This has to stop or America will be gone.
Apr 12th, 2016
Joel W. from Radcliff, KY signed.
Apr 11th, 2016
Someone from Macon, GA signed.
Apr 7th, 2016
Pam J. from Kaunakakai, HI writes:
Treason should be charged to the President of USA and those in his command if Sharia law is not immediately removed and forever disallowed in our country. The Predsident and those who administer his actions are bound to uphold the freedom and liberty of all US Citizens.. Shariah law destroys individual freedoms.. We must demand action for the removal and punishment of those elected officials who are defying the laws of the land and the constitution. The deceptively are promoting Sharia under the guise of calls of racism to those who are fighting it.
Apr 7th, 2016
Caleb L. from Alexandria, VA signed.
Mar 29th, 2016
Michael M. from Nashville, TN writes:
The Muslim Brotherhood is a TERRORIST ORGANIZATION They all belong in PRISON FOR LIFE Reality, not my opinion.
Mar 18th, 2016
Dennis & Monika K. from Watertown, NY signed.
Mar 18th, 2016
Thomas W. from Mechanicsville, VA writes:
The first responsibility of government is to protect the citizens, not to cave to our enemies.
Mar 12th, 2016
Someone from Middleton, WI signed.
Mar 9th, 2016
Melissa M. from Kinder, LA signed.
Mar 5th, 2016
L A. from Irving, TX signed.
Feb 28th, 2016
Rick B. from Franklin, NJ signed.
Feb 26th, 2016
Someone from Valley Stream, NY signed.
Feb 26th, 2016
Someone from Grand Rapids, MI signed.
Feb 25th, 2016
Daniel S. from Augusta, WV signed.
Feb 25th, 2016
Nicholas O. from Woodway, TX writes:
Feb 25th, 2016
William G. from Hurst, TX signed.
Feb 24th, 2016
Melissa M. from San Antonio, TX signed.
Feb 18th, 2016
Charles W. from Tucson, AZ signed.
Feb 13th, 2016
Maryesta D. from Louisville, KY signed.
Feb 7th, 2016
Glenn S. from Stevensville, MT signed.
Feb 6th, 2016
Someone from Clifton, VA writes:
To our current administration and government body...each and every one of you are a disgrace to this country. We the people elected you and we the people are being deceived by you. Put simply, it comes down to money. Those who want to invade this county with their believers have money and they are using it to bribe you into selling this country out. We are smart enough to follow the trail of money. Since you in the future will be able to secure your family, that leads us to fend for ourselves with no protection. For the first time in my life I am disgraced by my country and have no hope for it. I feel as if the control of my future no longer sits in my own hands. To the point where me and my family are considering moving our life and future to another country. Mr Obama, I tried to have respect for you, but you have made it virtually impossible. You clearly hate this country to its core and each time we challenge you on this you laugh at us, call us paranoid and then work more piece by piece to tear it down.
Feb 5th, 2016
Someone from Burbank, CA writes:
The bad muslims are going to get a lot of good muslims killed. Don't listen to the pathological liar with the silver forked tongue.
Jan 29th, 2016
Someone from Noblesville, IN signed.
Jan 29th, 2016
Sarah W. from Macon, GA signed.
Jan 28th, 2016
Johnnie P. from Moseley, VA signed.
Jan 27th, 2016
William M. from Ogden, UT writes:
I expected to be horrified by the actions of the democrats; but the real horror is that the republicans have joined them rather than protecting and defending the Constitution!!!!
Jan 26th, 2016
Shay S. from Marshfield, MO signed.